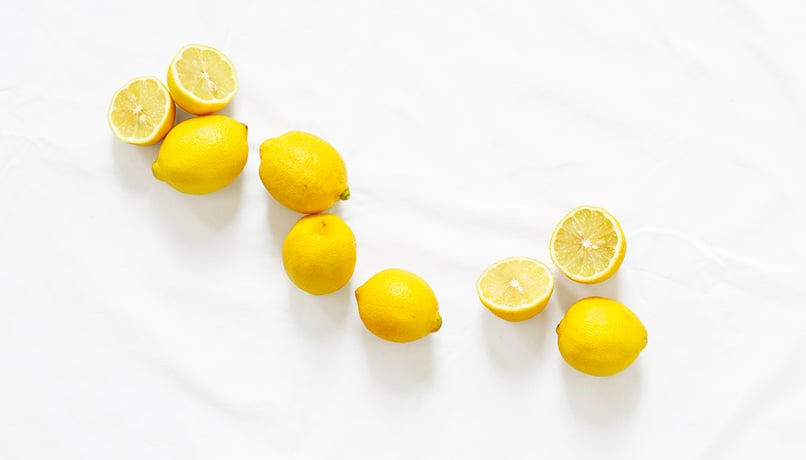 Scientists have been working on a solution to feed 10 billion people a healthy diet by 2050 without causing catastrophic problems for the planet.
In my last blog entry, I shared some rather sobering statistics linking the health of humans and the planet to the very food we eat.
Sobering, indeed: From increasing levels of chronic disease caused by obesity, to global food production systems that generate 30% of greenhouse gasses and demand 70% of freshwater resources, we are storing up critical problems for ourselves and the planet.
The good news here — and there's good news to share — is that an intelligent plan to avoid the crisis exists, and there are steps we can take, here and now, to support it.

Feeding 10 billion people — a model for planetary health

Two years ago, a group of 37 scientists came together to figure out how to feed everyone on the planet by 2050, when the population is projected to reach 10 billion. Known as the EAT-Lancet commission, the group decided to solve this problem and use it as an opportunity to tackle linked issues around farming, climate change and nutrition within the 2050 timeframe.
The EAT-Lancet commission's recommendations are hugely significant because:
Today, with global population at 7.7 billion, there are no healthy, sustainable food systems in place to meet even current demand;
The EAT-Lancet plan, with its improved diets, would save 11 million lives each year by cutting diseases related to unhealthy eating such as heart attacks, strokes and some cancers;
With sustainability engineered into food production, the proposal would minimise greenhouse gas emissions, prevent the expansion of farmland and conserve water, resulting in zero negative impact on the environment.
What's next?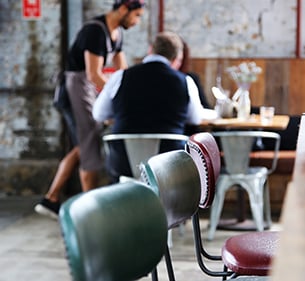 The EAT-Lancet Commission is going to take its findings to governments around the world, including bodies such as the WHO, to see if it can begin to change the way we eat and manage our food production globally
To achieve such large-scale plans, the approach requires significant policy changes and a coordinated global effort. This, of course, will take time. Lots of it.

However, there is an opportunity for the hospitality industry to lead change, in the here and now. We can do this in a practical and manageable way, by taking small, well-informed steps in how we look after, nourish and entertain our guests.


A plant-based, planetary health diet

The EAT-Lancet report recommends, a planetary health diet that steers away from meat and dairy as a main-source of protein. Instead, it recommends plant-based, and more environmentally friendly, sources of protein such as nuts, beans and lentils.

What does that mean for the hospitality industry?

Well, in practical terms, we need to prepare the kind of food for our guests that most rarely eat now. This means shifting focus to aflexitarian diet, where fruit and veg make up half of each plate we serve.

While meat and dairy are certainly not banished, they need to take a more supporting role rather than continue as a star player. For individuals, this would translate to a burger a week, a steak a month, and a couple of portions of fish and chicken in a week.

The EAT-Lancet commission outlines a planetary health plate, a kind of practical blueprint for the type of ingredients, and their proportions, that we should aim to serve up: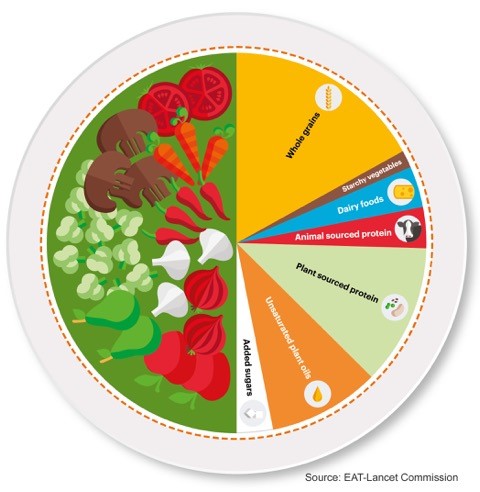 The following photograph provides another, more concrete, example with specific ingredients and portion sizes that make up a typical daily serving of the planetary health diet: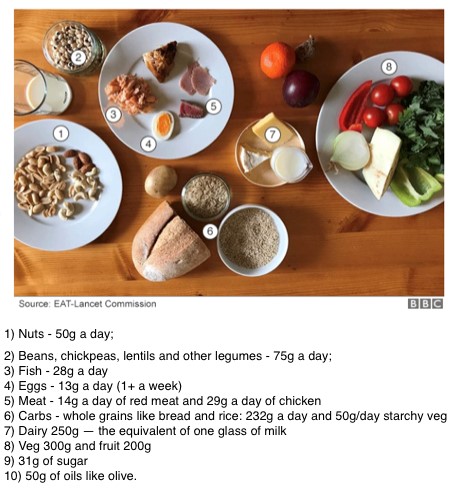 Seeing opportunity on a plate

Managing change is rarely a smooth process. Usually, imagination, skill and even a bit of alchemy, are required.

Take cooking for example. It's often a transformative, almost magical, leap from any list of raw ingredients to the final plate. From lemons to soufflé, this is the art of cuisine!

And while the EAT-Lancet models, above, are best taken not-too-literally, they do offer a useful — and necessary — direction for us to move toward. If it is hospitality's gift to adapt and transform, why not use these strengths to manage change, and reframe apparent constraints into new business opportunities?

In my next blog, I'll be shifting emphasis a bit, and exploring some tasty, colourful and practical tips on food, fun, and upping our game.
For more information on restaurant sustainability, check out our 6 Steps To Increase Your Restaurant Sustainability here!