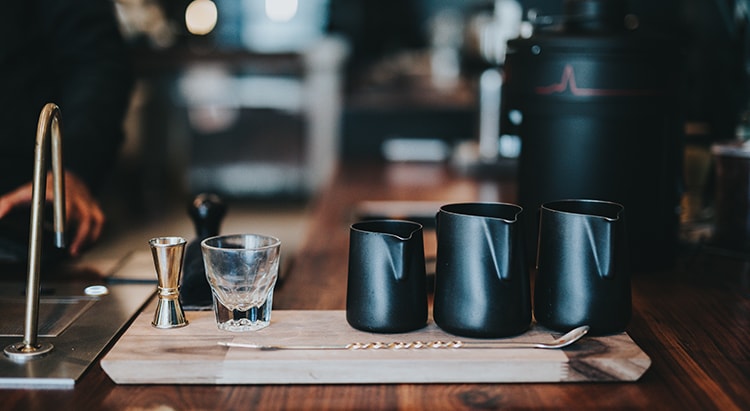 I remember when I came to London in 1999, I was 20 years old and under the impression that working in a restaurant was quite a simple task. I had the luck of knowing one of the biggest restaurateurs in London at the time.
I remember jumping on his Jaguar really excited about my first day at work. His house was in Gloucester Road, London, during the car trip he was indicating each restaurant he owned at the time on the various streets. Chinese, Italian, French fine dining, various Michelin star restaurants, including l'Oranger, Aubergineand finally Alloro in Dover Street Mayfair.That one, it was arbitrarily decided, it would be the restaurant offering my first job experience.
I just came out of University, I have studied economics for two years and then left out of boredom, choosing London as my next starting point. In my mind, the job would have been relatively easy, handling the reservations, smiling, carrying some food: obviously I was terribly wrong.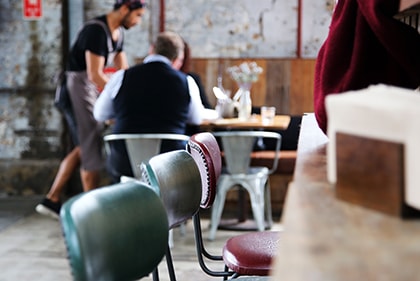 I entered the restaurant door on a Friday night, probably it was full to capacity, around 150 covers, 40 staff on duty, 6 managers, including one that today runs one of the busiest London restaurants. This guy was incredibly pissed off that I was recommended by the owner, obviously, he liked to choose his own staff with no external interference.

He told me that I was too tall to be a waiter, I was ugly and with no experience and I probably wouldn't last the trial. After many years I came to appreciate his pep talk before service because he prepared me for what was around the corner. I remember descending a flight of stairs and entering a busy professional kitchen full of screaming chefs and runners.

The feeling I still keep inside me today was a mixture of fear and uneasiness, an adrenaline injection that made me instantly focus and give me the strength I didn't even know it was there. That kitchen looked portrayed directly from Dante Inferno, everywhere I moved awkwardly I caused problems, hindering my colleagues while doing their business, bumping in every single kitchen tool, every moving limb.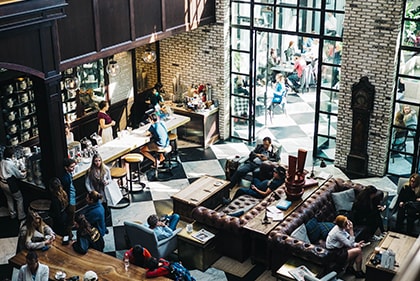 After 10 hours straight of really hard work, that comprehended carrying trays upstairs, polish cutlery and silver, trying to understand eight different languages, cleaning bathrooms producing origami on toilet rolls, being abused verbally and physically, I did ask a Head Waiter in a naive way when we could all have a break since in my country by law you were entitled to 30 minutes break: he swiftly called the General Manager that promptly showed me the rota for the week with 45 names on it: he highlighted the mere fact that I was the last entry on the roster and my rights were next to zero, due to the fact a lot of people wanted the job and he couldn't care less if I left that right instant.

My mouth remained shut but it was a wake-up call: I understand that today the restaurant business is protected by human resources, employment rights, raising of the minimum wage, limited working hours but, the lesson that was given to me that day I will never forget: in a restaurant the final result is what matters the most: customer satisfaction and quality of standards. That alone will come at a greater price than you ever expected. Freedom, festivities, girlfriends, family, personal interests, friendship will be things to surrender right away.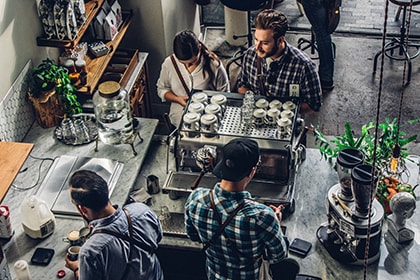 At the start you will never see money, the body will ache for weeks and you'll regret your original choice. Your colleagues are a family, a virtual place where you never complain or go against the management. All this discipline will eventually lead to the ultimate price: you will occasionally embrace the hard teachings and start to enjoy hospitality in a kinda sadistic way, being excited about covers coming through the door, being proud of your uniform and all the broken records, physical and financial.
I remember running up those stairs and pushing through the service door, carrying crockery and food on trays.

When that revolving door opened up for the first time, I froze right away admiring what it looked like a symphony of an orchestra: waltzing waiters serving businessman from the top Mayfair investment banks, well-dressed ladies from the high society sipping Martinis, celebrities improvising music pieces at the table, food critics, Managers that looked right out of an Hollywood movie.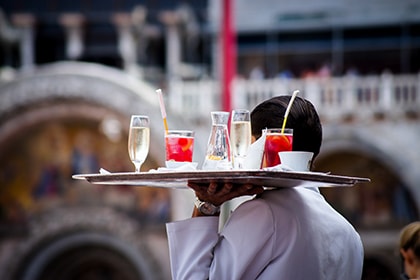 I decided that I would push harder than I thought to be able to serve people on that restaurant floor, I thought I would have to run so hard that the manager would appreciate my efforts but above all, I decided to stay until closing time because I didn't want to lose my job, the only thing could pay for my rent and sustain me. Obviously, there have been many books, including kitchen confidential by Anthony Bourdain, that have described our life with better words and factual events.

I am actually hiring waiters at our restaurant and each day that passes I see our industry perish little by little. We have candidates asking to get paid well as waiters or Chefs but they want the weekends off, a maximum of six shifts per week: recently I had a candidate showing me what he could earn in McDonald's.
Is the new generation lacking in ambition, or learning a new trade is too difficult? Is that feeling that drove me and many others to excel been lost? Well, I will keep trying because eventually a gem always come along and for me, it is worthed to pass on the incredible journey I have ever had. Is hospitality a forgotten art in Brexit times? Not yet, I would say. Teaching how to fillet a fish or carve meat at the table will come on fashion again as independent restaurants.