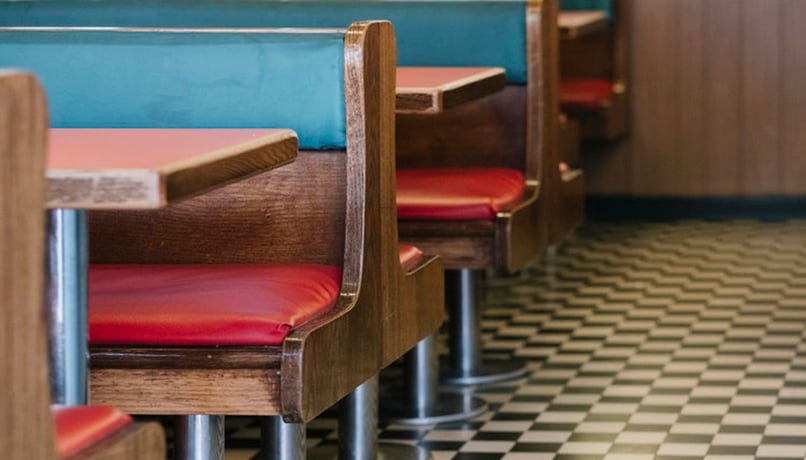 Instagram is a huge platform, and its success isn't set to die-down anytime soon--especially since over 1 billion people use the app every month.

But if you're not using Instagram to market your restaurant business (whether that's a cafe, diner or pub), you're missing out on the chance to drive more foot traffic - and of course, more paying customers eating your food.

Unfortunately, with so much content being posted on Instagram every day, it's tough for businesses to stand out, marketing in the age of social media can be tough!
.

How can your restaurant use Instagram for marketing, and actually create an "Insta-worthy" culture around your eatery?

In this guide, we're sharing the answers, with tips from industry professionals.
---
Read Time: 13 minutes
The Benefits of Using Instagram for Restaurants

1. Optimise Your Instagram Account

2. Design Your Interior to be "Instagrammable"

5. Create Awesome Captions for Each Post

6. Use Food-Related Instagram Hashtags

8. Offer Unique Promotions to Instagram Followers

---
The Benefits of Using Instagram for Restaurants

Before we dive in with the details, let's iron-out exactly why Instagram is so beneficial for restaurants.

We conducted a public survey and found 71% of people follow at least one restaurant on Instagram--and 60% follow three accounts or more:


Instagram followers aren't just a vanity metric, though. They can drive results.


Our survey discovered 95% of people take photos of their food in a restaurant, and 23% of those "always" or are "very likely" to upload those photos/videos to their Instagram profile: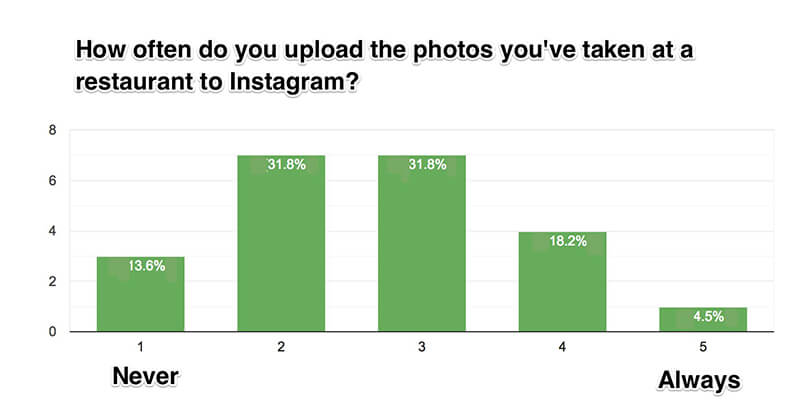 ...That's not all.


Our survey also found that 68% of people have visited a restaurant after seeing it on Instagram--meaning you're in with the chance of boosting awareness of your restaurant, and encouraging new customers to visit, if your dish makes the cut.

(Plus, 84% of consumers trust reviews from family and friends, so getting an endorsement via a customers' Instagram post is a surefire way to get more diners to your eatery!)

Here's hospitality consultant Paul Newman explains in Utilising the power of Instagram [5 tips],
why Instagram should play a huge role in any restaurant marketing plan:


"Since Instagram launched it has become a powerful marketing tool for businesses. If you have not jumped on the Instagram bandwagon yet, you may be doing yourself a great disservice. Instagram changes all the time, their algorithms change and what you do now may well change next month.

You are doing the right thing by reading blogs like this - be informed, it'll pay dividends.

Instagram is a great platform and you should look to harness it's power locally. It does have over 800 million users and a chunk of them will be on your doorstep."

8+ Instagram Tips for Restaurants to Get More Diners

Are you ready to make Instagram your restaurant's biggest driver of new customers?

Making a success from the platform isn't as simple as posting a few nice photos of your food.

Instagram followers are fussy with the accounts they follow, but these eight tips should stand you in good stead and catch their attention:
1. Optimise Your Instagram Account

When you're debating whether to follow an account on Instagram, I'll bet you analyse the profile to see whether they're worth following. This might even be subconscious: You're unlikely to follow an account without a profile photo, or a dodgy username like @gorn4819tc, right?

The people you're hoping to drive to your restaurant, via Instagram, are the same.

That's why you'll need to make sure your restaurant's Instagram page is fully optimized, by:
Selecting a username that's related to your restaurant name (ideally an exact match)

Writing a short bio to explain what your restaurant is about

Including a link to your website

Adding a location tag for browsers to see where you're located, and visit your restaurant after seeing it on Instagram.



Just take @FlipnTossNYC's Instagram profile, for example:




Notice how their profile photo is their logo, their username matches their restaurant name, and they've listed their opening hours to make it easy for diners to visit?



That's what you want to replicate with your own restaurant's profile!
2. Design Your Interior to be "Instagrammable"

Defined as a photo or video that's worth posting to Instagram, the word "Instagrammable" has soared in popularity over the past couple of years: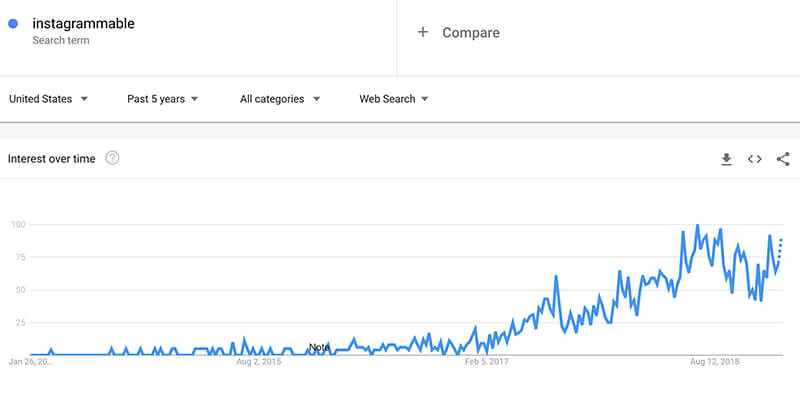 But the phrase isn't just a word used by savvy social media users under the age of 25.

You'll need to make your entire restaurant Instagrammable in order to ad encourage your diners to snap photos, upload them to their Instagram profile, and tag your account.

Here are a few techniques you can use to create an Instagrammable restaurant:
Plate your food nicely.

Have unique decor or furniture.

Install good lighting (so people can get a high-quality photo when they do pull out their camera!).

Focus on the exterior of your restaurant and making it look inviting

Use colours that resonate with your target audience. For example: Pubs and restro-bars could have vibrant colors, whereas family restaurants might be more neutral.

(If you're unsure how to make your restaurant more Instagrammable, do a quick search for eateries in your local area. Those diners are your competition, so try and think of out-of-the-box design ideas to grab local customers' attention.)

Take a look at how Fortnums' customers upload photos to their own Instagram feeds, purely because their restaurant is so Instagrammable:



Saint Aymes, a boutique coffee shop in London, also make their exterior Instagrammable to encourage passersby to upload photos of their restaurant to the platform:



Flower walls, fancy dinner plates or gold-plated furniture--it doesn't matter.

As long as you're making all aspects of your restaurant's design visually appealing, there's no reason why you couldn't list your restaurant alongside some of the most Instagrammable restaurants in the world!
3. Post High-Quality Photos

Over 95 million photos and videos are shared on Instagram per day.

And while you'd like to think you could attract a small percentage with your iPhone photography, the truth is: You'll need to post high-quality photos if you'll want to grab the attention of the billion users who browse the platform everyday.

That's easy for brands in the fashion or beauty industry.

But how do you create high-quality photos for your restaurant's Instagram page--and what should you upload photos of?

Going back to the results of our survey, we found 60% (over half!) of people who follow restaurants on Instagram do so because they post photos of nice food.

Here's a fantastic example of how @sweetgreen do this on their restaurant's Instagram page: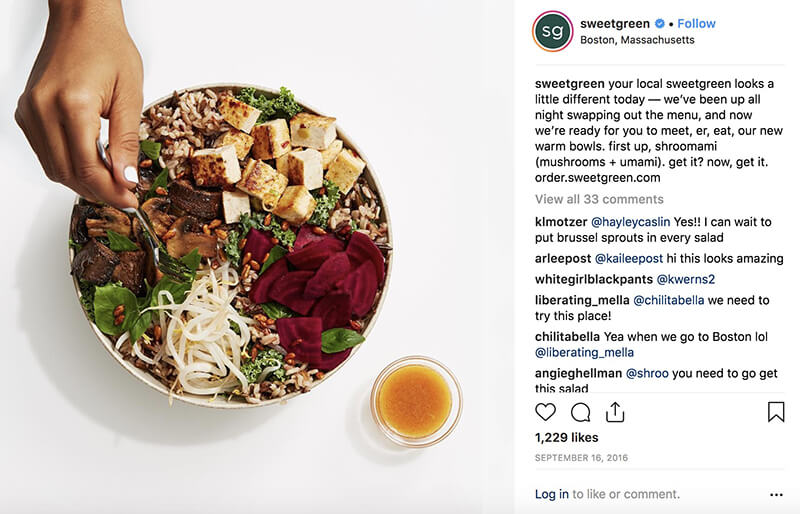 You want to eat that delicious salad, right?

The best part about Instagram content is that you don't always have to take the photos yourself.

Almost all (95%) of the people we surveyed said they take photos of their food when visiting a restaurant, and 23% of those "always" or are "very likely" to upload those photos/videos to their Instagram profile: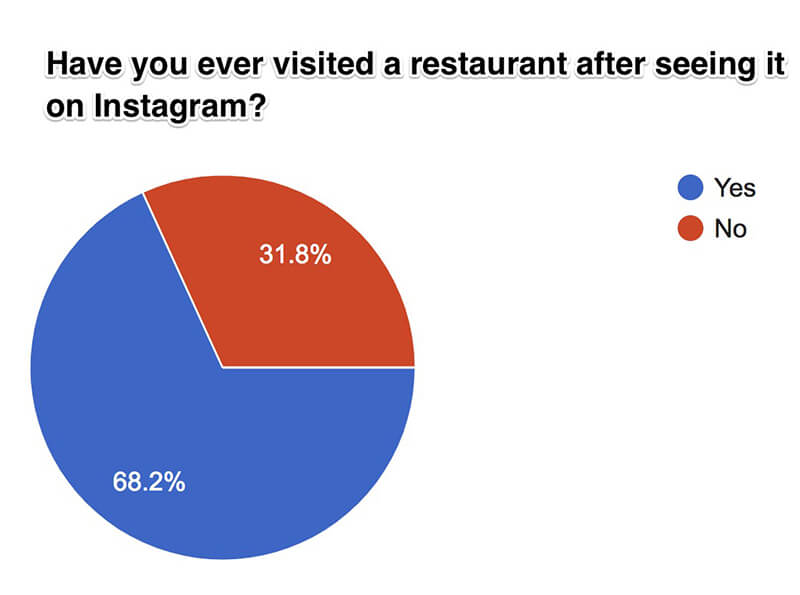 Why not browse the photos you've been tagged in, and repost them onto your profile?

You'll need to give credit for the photos, like this post from @foxinthesnowcafe:

But it's still a fantastic way to get high-quality content for your Instagram page without investing in photography, yourself.

Sit back and do what you do best: Cook delicious food. Then, let your customers do the photography--and publish it to your Instagram page for all of your followers to see!

Are you worried of constantly uploading photos of food--especially because you've not got a massive menu?

Don't panic. You could also snap photos of:
Behind-the-scenes in your kitchen

Photos of your menu

Customers enjoying their meals (with their permission, of course!)


Here's Beth King with some more amazing content ideas for Instagram:


"You really care about real ale? Show your varieties, show changing a barrel and show specials. Is your business a restaurant? Show your staff and their customer service, show your food and show behind the scenes. Depending on whether you have photographs at the ready, a post can take as little as 1 minute to share. With over 3 billion social media users, a post has the potential to reach an extremely large audience. Meaning social media marketing is the quickest and most vast marketing platform available - when used correctly."

4. ...and Videos

Did you know that videos on Instagram have increased by 80%, year-on-year? Since their introduction in mid-2013, they've quickly become one of the fastest-growing elements of the platform.

That's why your restaurant should be taking advantage, and posting video content to Instagram.

The concept of creating high-quality photo (discussed above) applies for video, too.

You could either: Create the videos in-house if you've got a basic understanding of how video recording and editing works, or allow your customers to take videos inside your restaurant and repost them to your Instagram page.

Just take @dunkin's Instagram video, for example:
Their video is quick, and seasonal--and more importantly, a great way to show-off their food.
Why wouldn't you want to visit their restaurant after viewing it?
Before you rush off and record a quick video to upload to your restaurant's Instagram page, there's one thing to be wary of: Sound.
Some people, particularly those browsing the platform in public, watch videos without the sound. You'll need to either:
Add captions (using Instagram's text feature)

OR make sure your video can be understood with sound off.
5. Create Awesome Captions for Each Post

When you're uploading photos or videos to your restaurant's Instagram feed, you'll get the option to add a caption to each update.

Don't neglect it. It's a huge part of your post, and likely much more important than you think!

When we asked people why they press the "follow" button on a restaurant's Instagram account, 35% of people said "because the account posts funny or engaging comments".

Instagram captions give your restaurant the chance to communicate with your customers, and prove that you're a fun brand they should visit.

That's important, as Beth King explains:

"Social media is an experience, individuals are putting out what they want their audience's to see. This is the same for your business too. Your social media accounts should reflect the business, the brand and the ethos. Your customers are coming for an experience, social media guides them to what you want them to experience, from before they walk in the door."

But what exactly should your Instagram caption be?

...Anything that sparks a conversation with your audience.

If you're able to push followers to hit the "like" button on your post, drop a comment or follow your profile, your engagement rates increase--something Instagram's algorithm use to determine where a post should organically show in a followers' feed.

Here's hospitality expert Paul Newman explaining how that engagement algorithm works on Instagram:

"Genuine engagement will create interest, followers and inevitably spend in your restaurants. The more engagement you give and get will get Instagram to put you into their main algorithm as it sees you as an active credible feed. Always reply to posts to give yourself more reach."

By getting people to engage with your post, you'll have a greater chance of your content being shown organically--and improve overall awareness of your restaurant's Instagram profile.

That's the aim, right?

Your Instagram captions could:
Ask questions, such as "what's your favourite dish, ever?"

Encourage people to tag a friend they'd like to bring on their next visit

Include emojis

Tell a joke

Share a story of something funny, interesting or strange that happened in your restaurant.

Take a look at how @tacobell do this with the Instagram captions on their photos: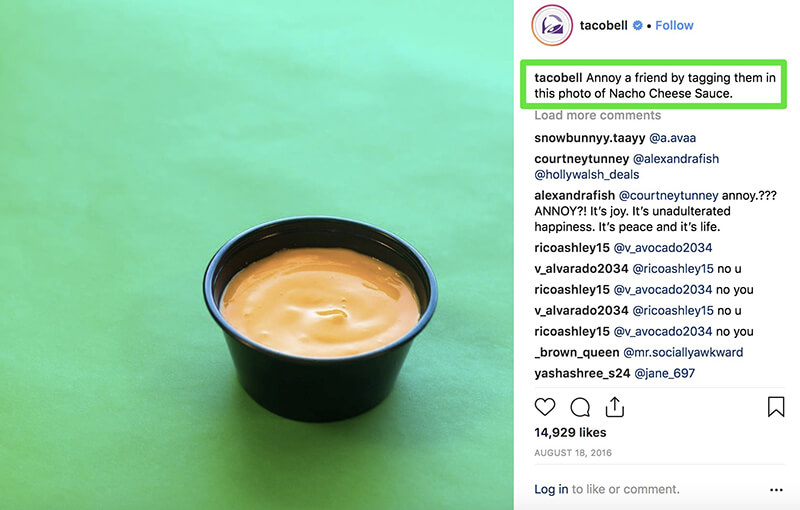 Remember: Your captions are the perfect way to engage someone who's viewing your content. Test which captions work best by trialing a handful and recording your results.

You never know, you might find your top-performing posts have a caption with an emoji.

Replicate that going forwards to see similar results!
6. Use Food-Related Instagram Hashtags

Along with following an account, Instagram allows users to follow a hashtag--which allows them to view posts from accounts using the hashtag, even if they don't follow the account itself.

That means you could get your restaurant's Instagram content seen by people who don't follow you, boosting your reach and driving overall awareness.

(Plus, who's to say those people won't click your high-quality photos and click the "follow" button?)

Luckily for you, you don't need to spend hours researching which restaurant-related hashtags are worth your while. Here are a handful of Instagram hashtags for restaurants to get you started:



So, now you've found the best Instagram hashtags for restaurants, where do you use them?

You can either: Post the hashtags in your post's caption, or add a comment below the image with several hashtags. Both make the post visible to people browsing the hashtag's feed.

Here's an example from @rudysrestaurants, which I found by searching #Foodie: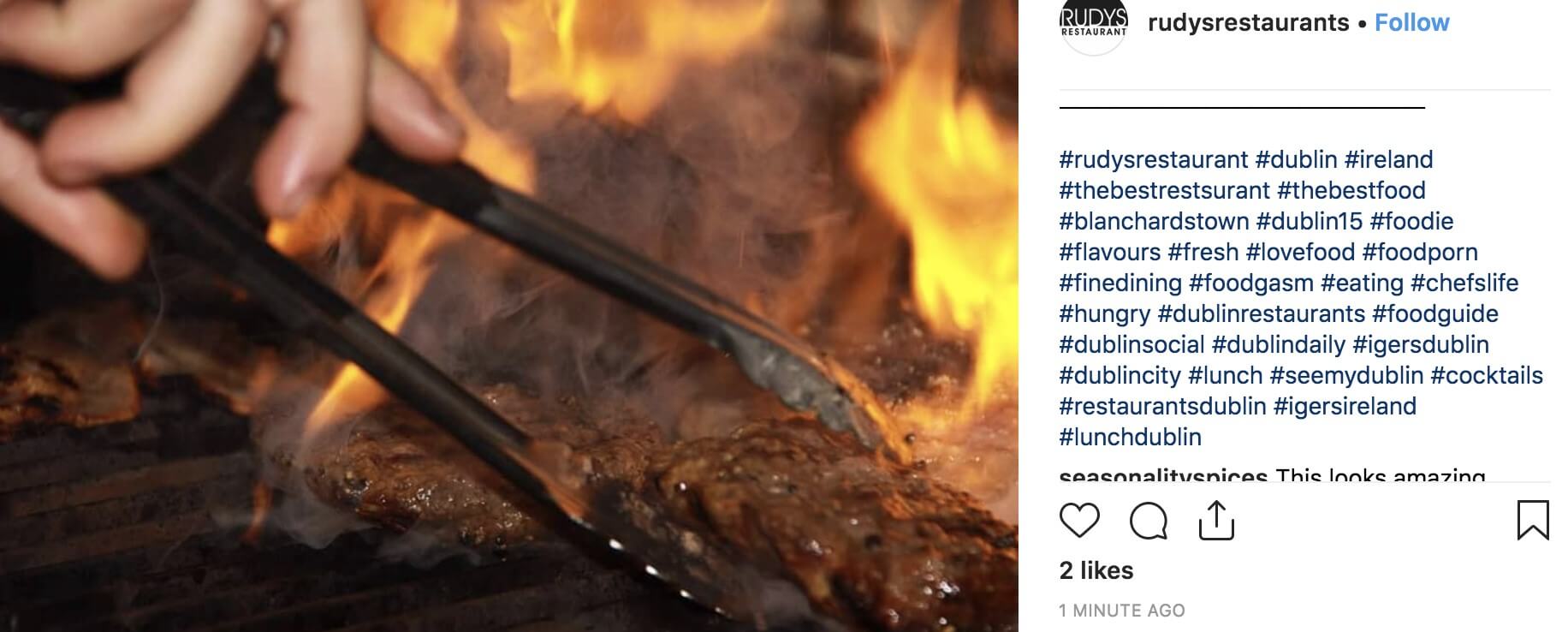 7. Upload Content to Stories

Stories are a relatively new feature to the Instagram app, and allows accounts to post live content to their profile, without it being visible on their main profile.

And with 1 in 3 daily Instagrammers saying they've become interested in a product they saw on Instagram Stories, it's a fantastic way to drive more followers to visit your restaurant.

Simply swipe your Instagram feed to the right, and record a quick video to publish to your Stories. Your content will then be visible in your followers' Stories section, and people browsing your profile will see a ring around your image to watch your Story.

You can even post a photo to your feed with the caption referring people to your Story, like @piadaitalianstreetfood: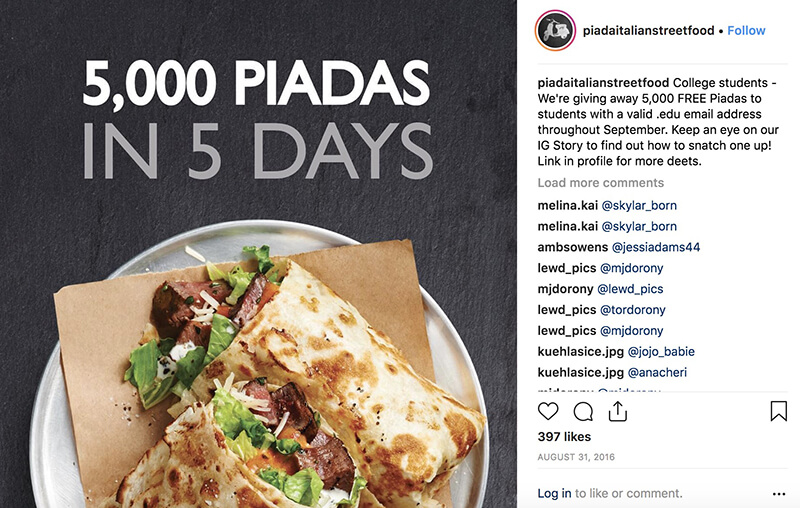 But how can you make the most out of Instagram Stories?

The answer: Use Stickers--a selection of overlays that allow your followers to engage with your Stories' content.

You can:
Create a poll

Add GIFs to convey how tasty your food is

Geo-tag your Stories to easily show your location, and allow customers to get directions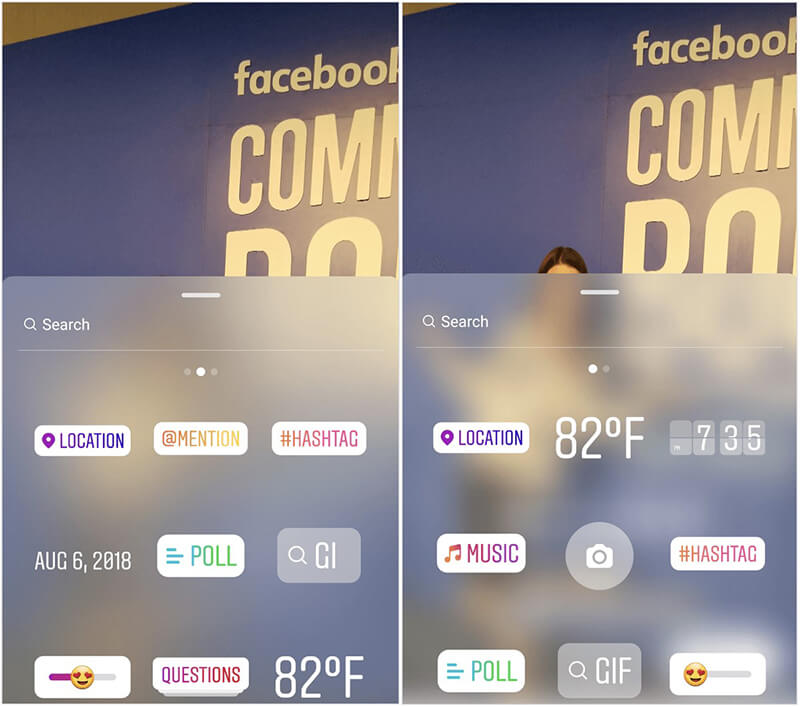 Paul Newman explains why the people who watch Instagram Stories could become potential diners:

"The story watchers take more notice as their whole screen is filled with your action. Try behind the scene content to give viewers and insight into the workings of your business. It's time consuming but worth it, the more effort you have to make means that lots of your competitors won't be bothered - you should! If you decide that you will post to your feed on a Monday and Wednesday post stories on a Tuesday and Thursday. On stories you can encourage people to watch the whole thing with an offer or added value deal. Engagement will increase and your hardwork will be worth it."
8. Offer Unique Promotions to Instagram Followers

Did you know that 40% of people follow restaurants on Instagram to see offers or promotions?

Give your followers what they want and offer unique discount codes specifically for people who visit your website after viewing it on Instagram.

For example: When you upload a post to your profile, add one of these captions:
"Visit us this weekend and quote INSTAGRAM when ordering to get 10% off!"

"Show us this photo when you visit to get a free starter!"

"Use code "ILOVEIG" when making your reservation to get one meal free!

Not only can this technique help you to attract new followers, but it can also push your followers to making a visit. Why wouldn't they want to visit your restaurant if they've got such a great incentive?

Plus, you can actually see how many diners actually arrive from the platform, rather than taking a stab in the dark.
Final Thoughts

Now you're fully in-the-know about using Instagram for your restaurant, it's time to put these tips into practice.

Whether you're focusing on improving the quality of your photo content, posting videos to your Instagram Stories, or adding hashtags to your captions, remember that Instagram is thriving--and an increasing number of people are using the platform to find new eateries.

Make sure your restaurant is a strong contender.

You're bound to see an influx of new diners--people who're soon to become raving fans and help your Instagram profile rise to the top of the ranks!