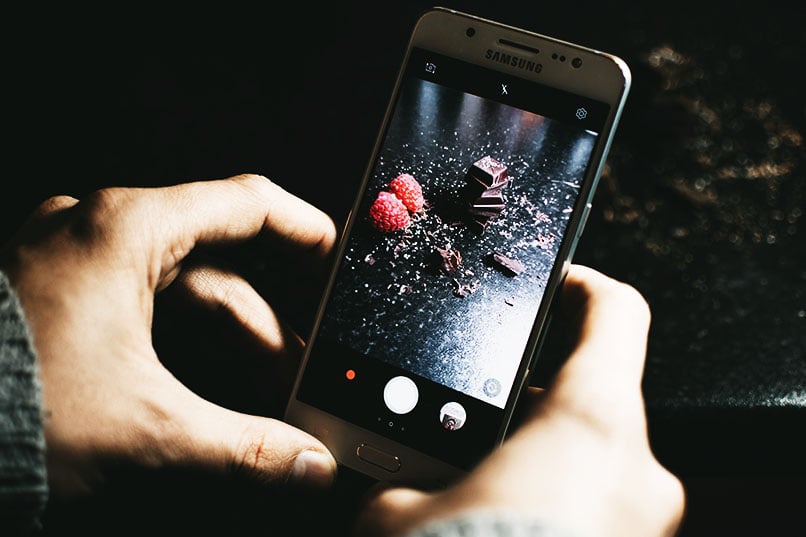 Facebook is fine and Twitter can be terrific. For the enterprising restaurateur, however, it's important to consider the value of a social media platform before they establish their presence there. It can be confusing to determine which is the best platform for you, let's take a dive into why Instagram might be the answer to your social media woes.
Read Time: 17 minutes
---
---
Social media for restaurants

Many restaurant owners (and many entrepreneurs of all kinds for that matter) adopt a blanket approach to social media, establishing presence on a wide range of platforms…. And that's fine, if you have the time and resources to manage them all. Many restaurants and other businesses, however, cannot.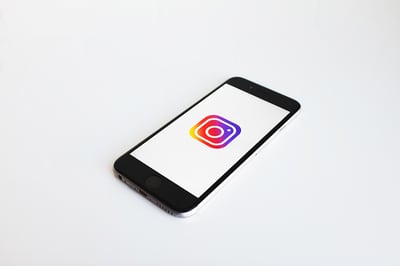 Thus, they wind up with long dormant social media accounts with a sparse handful of followers (not a great look for any business). Worse still, they can waste precious time, effort and manpower (things that tend to be notably sparse in the service industry) managing social media accounts that just don't pay the dividends they should in terms of user engagement. Or diners at tables.
It behoves restaurateurs to choose platforms that maximise their chances of getting genuine user engagement from regular diners and new, local prospects alike. A platform that allows their product and their brand to shine. For restaurateurs, Instagram is the perfect choice to grow their brand, promote their delicious wares and get diners sitting at tables all year long.
But just because you have an Instagram account doesn't necessarily mean that you're leveraging the platform properly.

Here we'll dive deep into why reasons why Instagram is a great platform for restaurants and teach you how to use it for maximum engagement in this Ultimate Guide to Instagram Marketing for Restaurants...
Why Instagram is great for restaurants
The beauty of Instagram is that it is an inherently visual platform. Sure, Facebook, Twitter and Vero all allow users to post images, but the way in which they are displayed on a user's timeline is often less than flattering (especially on Twitter which has a nasty habit of cropping images in less than complementary ways).
Instagram, however, is designed to allow users to truly showcase their images to create pictures so vivid and appealing that the viewer wants to climb through their device and into the picture. This makes Instagram the perfect platform for restaurants.
There are few social media platforms that allow for creative expression as much as Instagram. This makes it a great platform for any business to showcase its products, but for restaurants, this takes on a whole new level of importance. As they say in the industry, the first bite is with the eye! Take Carbon Free Dining certified restaurant FoodWell for example, their Instagram oozes creative flair.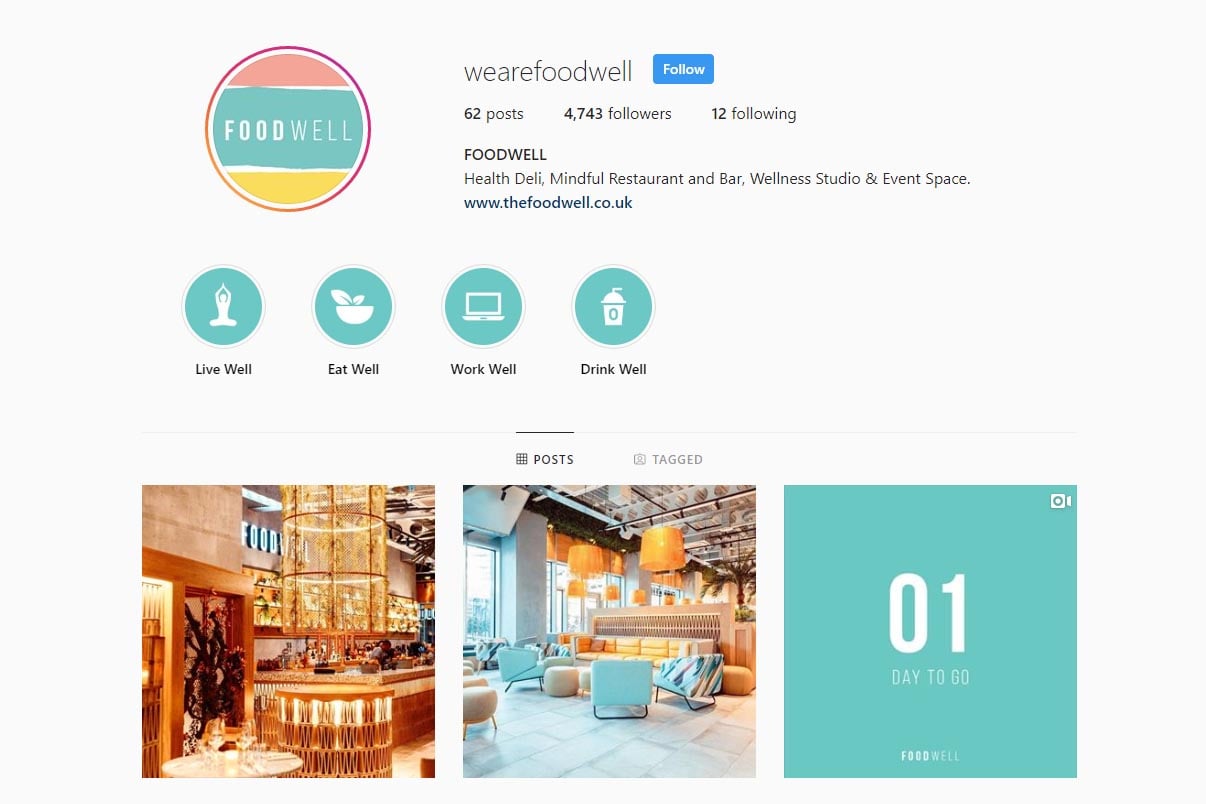 Presentation is as important to food preparation as the delicate balance of flavours and textures that makes good food worth paying for. Something about the sight of delicious food ignites a dormant hunter / gatherer instinct present in all of us and fills us with the desire to eat and enjoy. That's a powerful tool to be able to leverage.
What's more, an increasing number of users have begun to turn to a restaurant's Instagram presence as a means of perusing the menu. Let me explain....
Research demonstrates that customers between the ages of 18 and 35 spend five whole days a year browsing food images on Instagram, and 30% would forego visiting a restaurant if they thought that the restaurant's Instagram presence was weak.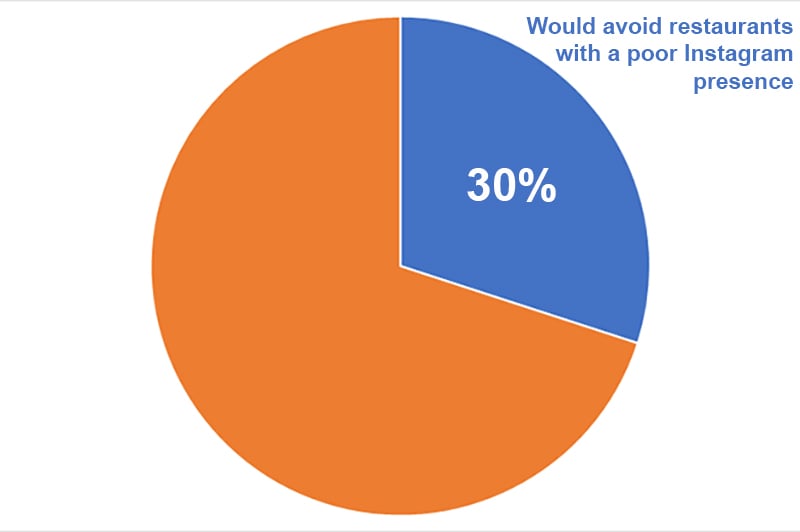 Amazing right?
In an age where people's behaviour is increasingly influenced by their social media feeds, there's no excuse for restaurants not to embrace the awesome marketing potential of Instagram.
Last but by no means least, Instagram puts you in touch with an enormous array of active users. In 2019 the amount of active users on Instagram is expected to pass 111 million in the United States alone.
That sounds like a great backdrop against which to build your brand to me!
Hopefully by now you're sold on the importance, nay, necessity of using Instagram to market your restaurant. Now let's take a look at some of the ways in which you can do just that like a pro, and see in a new era of prosperity…
Starting up: Establishing your account
The first step lies with building your account. You may already have set up an Instagram account for your restaurant but even if this is the case, it's still worth reading this section as there may be a step that you have missed that is preventing you from reaching your profile's full potential.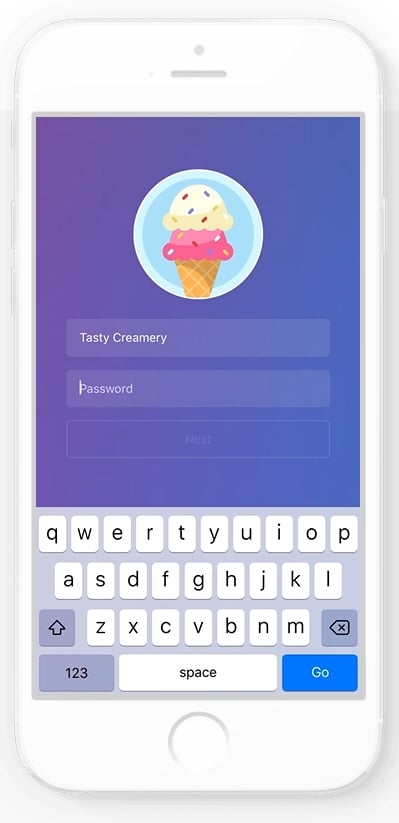 The first step you should take is in setting up a business account and not a personal one. Many restaurateurs make the mistake of setting up a personal account for their restaurant and in so doing they miss out on valuable insights and analytics which can help you to see which images gain traction with your target audience and which do not.
This is vital in informing your ongoing Instagram strategy… And make no mistake, to properly leverage the brand-building power of Instagram, you need a strategy.

If you have already set up a personal account, don't despair. It's quick and easy to change a personal account into a business account.
Moreover, setting up a business account makes it easier for prospective diners to contact you directly on Instagram. If they see an image of a particularly sumptuous plate of food and are impressed, they stand a better chance of booking if they can contact you directly rather than having to come out of Instagram to find you on other platforms.
Choosing a name is likely a no-brainer. Your restaurant name is the best place to start. This helps to ensure that local users can find you easily. If your restaurant name alone is not available it may be worth adding the name of your town as well. In fact, you may find that adding your town's name helps local users to find you.
Keep in mind you can always change the name of your account!
Finally, when it comes to setting up your account, we recommend having at least a handful of images in the bank before you "go live". After all, nobody wants to see a bare account!
Being searchable and shareable
Of course, it's not enough to simply post beautiful pictures (don't worry we'll get to the finer points of that too). It's also about ensuring that hungry locals can not only find you when their tummies start rumbling but that they can share the images of delicious food they're about to eat with their own followings. Set your diners tummies rumbling and you're onto a winner!
It's also a good idea to set up a location page for your restaurant if you haven't already. You cannot do this directly on Instagram but you can setup a location page on Facebook and Google. And if you want to score some local SEO points it behoves you to do both and make sure that your NAP (name, address and phone number) data is up to date.
Doing this will allow users to tag you in their posts when they take pictures that will paint a portrait of the awesome dining experience they had with you.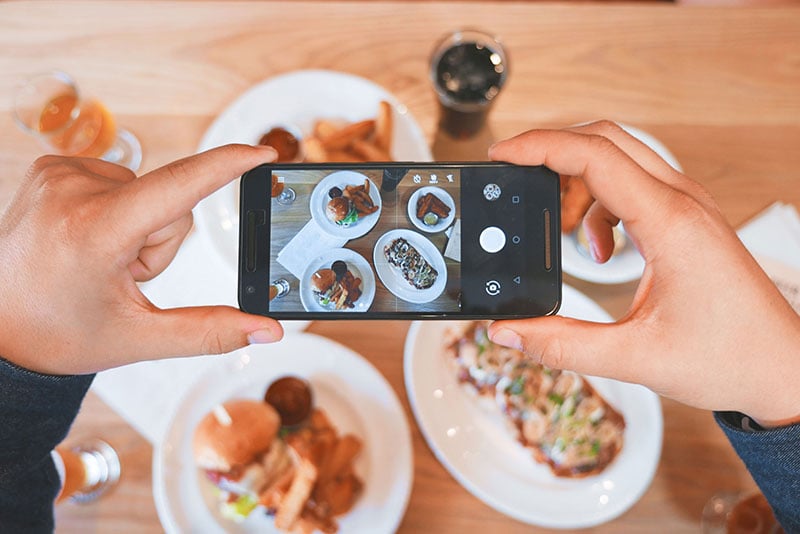 Incidentally, for this reason it's a good idea to ensure that your social media profile names are clearly visible on your menus. Some restaurants even post their details in their windows so that prospective diners can post about them as they walk past.
This can encourage diners to post images of their delicious meals to get their followers salivating and it may also lead to more prolonged user engagement.
This should be done at your own discretion. If you want to attract a younger and more casual audience you may actively encourage this kind of behaviour. However, if you have an older clientele they may consider a cadre of hashtag-happy youngsters off-putting.
It may be prudent to ensure that your website has a life feed from your Instagram account and whichever web hosting platforms you use there should be a plethora of plugins to allow you to do this.
Here are 8 of the best Instagram plugins for Wordpress, while Squarespace makes it easy to incorporate Instagram blocks into your website (here's a useful tutorial).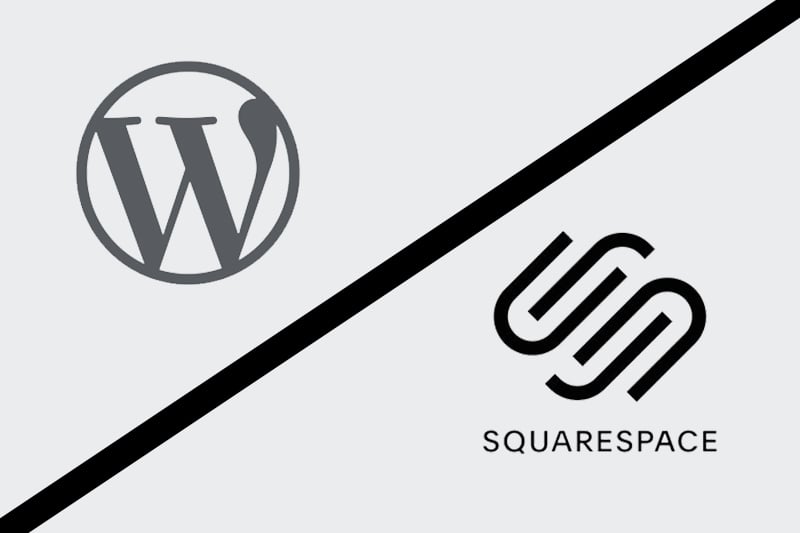 It's also worth integrating your Instagram feed into other social platforms. This will give you all the visibility across a range of platforms without the legwork.
Just make sure that when you post with long captions, that they are Twitter-friendly. Twitter has upped its character cap from 140 to 280 characters but you'd be surprised at how readily this can be filled up… Especially when you pepper your posts' captions with hashtags.
Speaking of which, of course we can't talk about making your restaurant searchable without...
Serving up hashtags
Hashtags are an invaluable tool in helping users to find your images. They're also a great way of promoting the kind of genuine engagement that leads to long-lasting consumer relationships. Indeed, studies show that posts using at least one hashtag get 12% more engagement than their hashtag-free counterparts.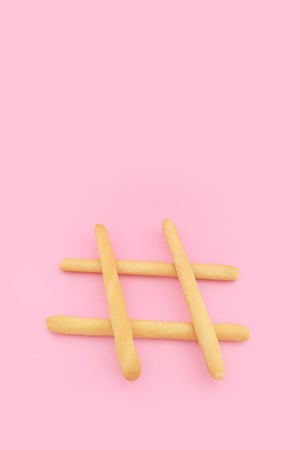 But hashtags, just like keywords, need to be carefully considered. Restaurateurs must walk a fine line, choosing hashtags which are hyper-relevant without being hyper-competitive. Instagram is a huge marketplace with thousands upon thousands of brands all clamouring to be heard.
Choose hashtags that will get the attention of many pairs of eyes… But not too many. #Foodporn #Instafood have literally hundreds of millions of post counts.
Being seen by hungry local diners amidst such a deluge of posts can be challenging. Throw in #Food and the name of your city, however, and you stand a much better chance of being seen by the right people.
While all of your posts should make use of different hashtags, it's a great idea to choose a separate hashtag that's specific to your business. This should be creative and involve some element of clever wordplay. It should have a sense of fun which encourages diners to get in on the action.
This very personal hashtag should be clearly mentioned on your Instagram bio and all of your posts. By all means, you can even display it in your restaurant window or print it on your menus to encourage diners to use and embrace it.

Niches and seasonal events are also good places in which to use hashtags. For example, if you've just developed a new vegan dish using a vegan hashtag will help you to find dedicated vegans who are always on the lookout for exciting new food options.
Likewise, if you offer a seasonal promotion or dish like a deliciously tempting chocolate dish for Easter or an aromatic cheese-dripping feast for National Pizza Day, a hashtag can be a great way of keeping yourself relevant while also attracting interested parties.
Hashtags can also be used for special events, competitions and promotions. Which brings us to...
Want user engagement? You've got to give them something first!
Instagram is not a one-way street and if you want users to genuinely engage with you, it's not enough to simply maintain a presence on Instagram. You need to be interactive. You need to respond to comments users make on your post (both positive and negative). You need to like, comment on and interact with their posts as well as reacting to what they say about your own posts.
It's also a good idea to give them something for nothing, even if that something for nothing is just a chance. Posting an image of a coupon and offering a discount to all who show it at the point of order is a great way to encourage users to engage with your Instagram feed, as is encouraging users to like your posts, follow your account and use your hashtag in exchange for discounts and freebies.
Rossopomodoro is an excellent example of a restaurant using a hashtag in conjunction with a promotion. As part of #WorldKindnessDay, they gave away 3 copies of Wonder, all their followers needed to do to enter was engage with a like and comment.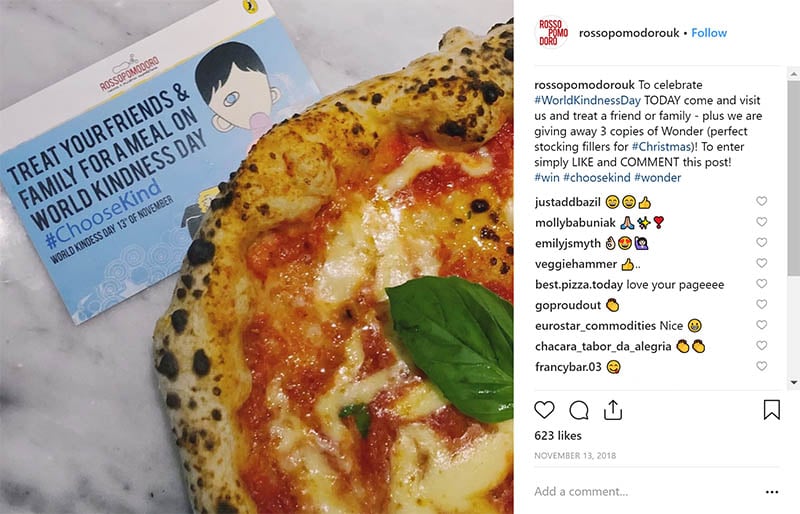 Competitions are also a fantastic way of promoting genuine engagement from your following at a tiny, tiny cost to your profit margins. Running a contest with the prize of a free meal (or better yet a free gift card) can be a great way to create positive buzz and chatter around your brand.
You can run a competition solo if you have a large enough following or you can use a social media influencer as your mouthpiece.
And this brings us very neatly to...
Leverage food critics, bloggers and influencers
Influencer marketing is something that big brands and small embrace across a huge range of industries. Done right it can pay huge dividends with a fairly minimal upfront expense. If you can get a well-liked local food blogger with a large following to post positively about your restaurant, this can result in some terrific brand exposure to a local, interested food-loving audience.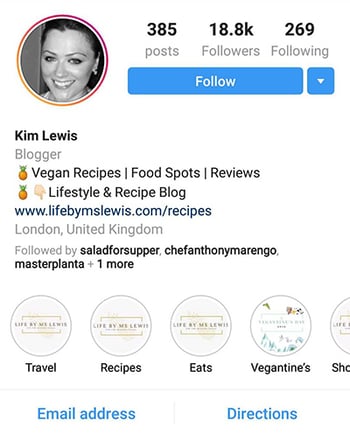 The great thing about food bloggers is that they're easy to reach, they're abundant in most conurbations and in most cases are always hungry for both a free meal and an opportunity to promote themselves. What's more, in terms of cost: reach ratio they represent a solid investment.
Kim Lewis for example is a vegan food & lifestyle influencer who has built up a credible reputation through her helpful and insightful blog and successful Instagram page.
Bloggers and influencers with 15-50k followers are well within the reach of most restaurants. Many have the skill and eye to be able to take great pictures of food and can provide fantastic exposure. Influencers know a fair bit about how to promote themselves and the brands they use.
However, they won't be so self-involved as to charge you a hefty fee for the privilege of dining for free at your restaurant.
Speaking of an eye for images, maybe it's time we get to the main course. Let's talk about taking Instagram pics so sumptuous that they have viewers clawing at the screens of their devices to get their hands on your delicious comestibles…
Creating content that makes tummies rumble
Even with all the right marketing knowhow, an Instagram feed is only ever as good as its content. Your content serves as social proof. It shows just how much cooking finesse you demonstrate. "If it looks this good," your content should scream "just think how good it must taste!". Creating captivating images of your food will gain you followers, and the more followers you have, the more chance that they will "convert" into loyal repeat diners. The more irresistible your food looks, the more chance there is of your gaining followers and diners.
Before we get into the logistics of taking great photos, it's important to think about...
Think long and hard about what you post
While you may love each and every dish prepared on your premises, some dishes are more photogenic than others. In fact, there are some restaurants that highlight their most Instagram-worthy food and drink options on the menu.
The most photogenic foods create combinations and juxtapositions of color, shape and texture so that they look visually intriguing as well as downright delicious. Keep in mind that as much as you may cherish your recipe for steak tartare, not everyone salivates at the sight of raw meat and vegetarian diners may feel uncomfortable.
Likewise, more esoteric dishes may have viewers thinking "What's that" rather than "That looks delicious". Some of the most photogenic foods and drinks include;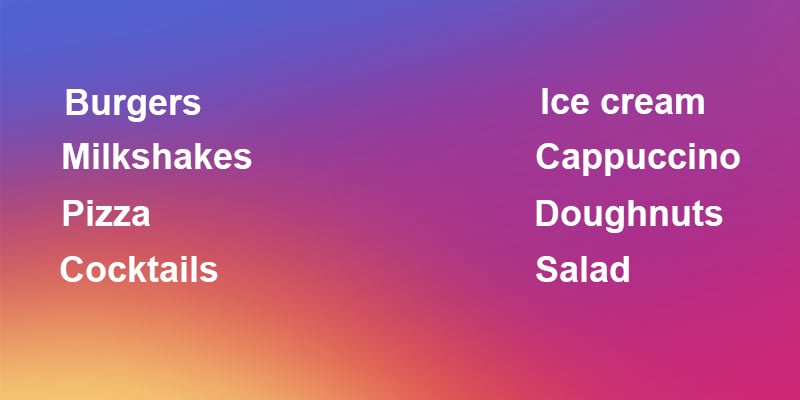 While some of the most hashtagged foods globally include;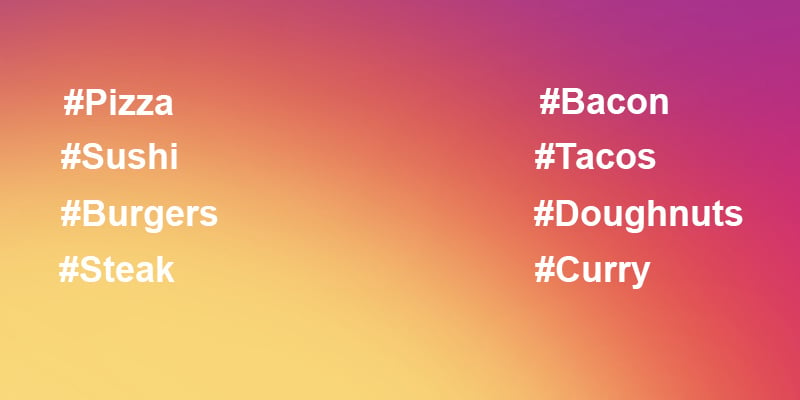 Some foods photograph better than others while some foods have devoted followings. Which you choose to post is up to you.
Think carefully about who posts and when
As a busy restaurateur you likely have so much to do that it's hard to find time to post all your content yourself. By all means delegate Instagram posts to a trusted member of staff who not only know how to take great photos, they understand how to use Instagram effectively and can use the company's voice in captions and interactions with other users. If you have someone in charge of your marketing, this is definitely a job for them.
You should post fresh new images every day, and ideally post several times a day. If this seems challenging, remember, you don't have to come up with all of your own content! Regramming can be a great way for time poor restaurants to keep the flow of quality images coming (just don't lean too heavily on it).
Search for instances of your restaurant's hashtag and cherry pick some of the best to be regrammed (here's how). Needless to say you should always credit the original poster.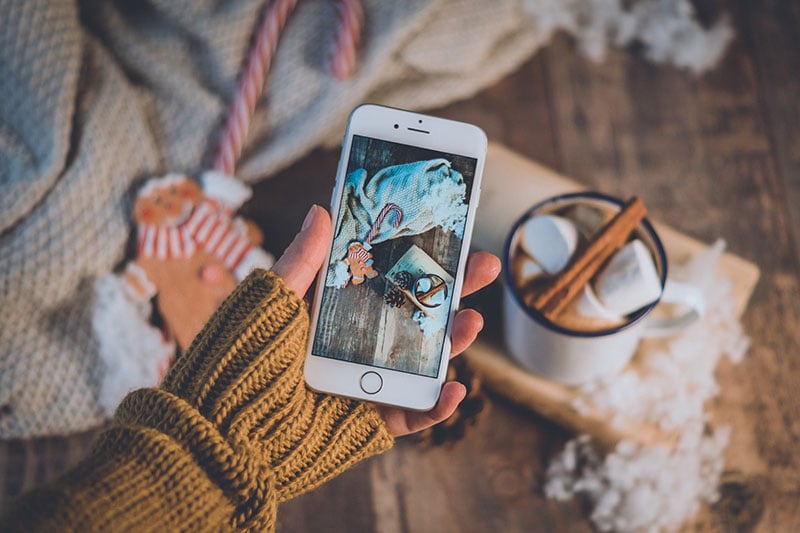 Taking sumptuous shots
As we draw to a close, let's take a look at some tips for taking breathtaking shots of the delicious food you serve.
First of all, you should use a professional camera such as a DSLR if possible and upload the images to your phone or other Instagram enabled device. This will give you better resolution which will allow you to capture all the little nuances of texture that make food pictures so vivid.
Sure, some of these may be lost in translation when uploading to Instagram but you'll still get a better quality image. Even if you only have a phone camera, be sure to use the phone's camera app rather than Instagram's more limited in-app camera.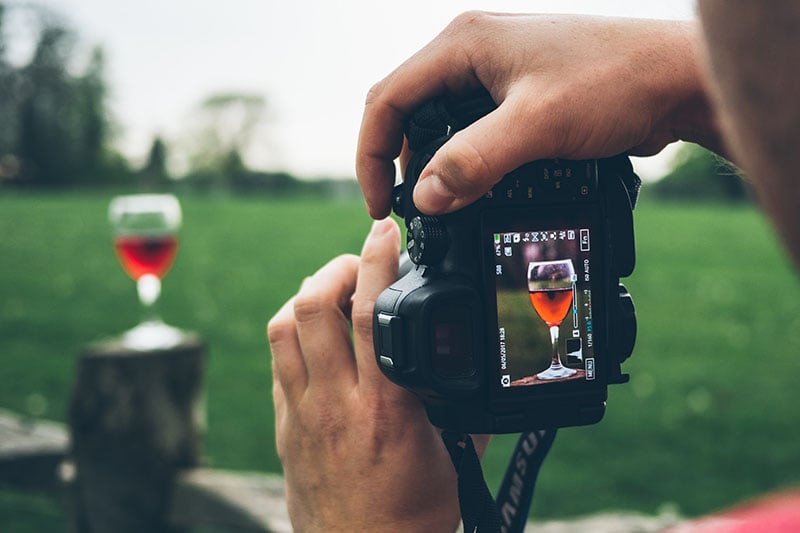 Tasty frames
Framing and composition are important in taking food shots.
Fortunately, you have a static subject so you can take your time to compose your images carefully. The good old "rule of thirds" is a useful way of framing images.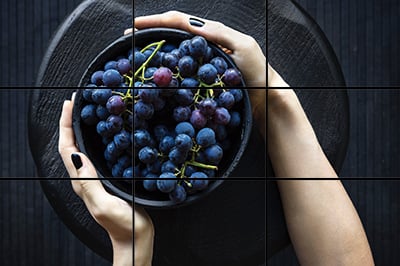 Imagine a grid is placed over the image, dividing it into thirds both vertically and horizontally to create a grid of 9 squares. The most visually interesting points should be places in which the lines of the grid intersect.
The middle square will be where the eye is naturally drawn so you should have something appealing there to meet it.
Tips and tricks
Give your food props
While you will want your dish to speak for itself, be wary of going too minimalist when decorating your shot. Don't be afraid to add in little props like forks, chopsticks, spoons or glasses of wine to add dimension and range to the shot.
Let there be light
Natural light is by far the better option for photographing food as it renders the colours and textures more vividly while flashes and harsh overhead lights can wash out your food or draw attention to the wrong parts of the image.
Play with colour and texture
Remember that you want your images to look as vivid as possible and in order to do this you need to create juxtapositions of colour and texture. Shooting a bowl of soup? Add a swirl of cream or a sprinkling of crumbly croutons! Photographing burgers? Make sure you snap them from the right angle to showcase all of the tasty ingredients and their different textures and hues.
Filters are your friends
While filters should be used warily they can also create just the right tweaks to make your images truly pop.
Looks a lot like success!
When you take the time to get to know how Instagram works and how to leverage it, it can be more than just a great way to market your business. It can also be a fun creative outlet that builds upon your brand identity and brings real tangible values to your diners every day.
Looking for more top tips? Check out - Your business should be using social media!